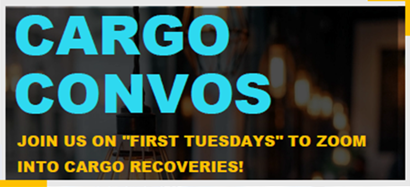 Cargo Convos is a free monthly one-hour seminar and conversational series hosted by Maloof & Browne LLC via Zoom on the first Tuesday of each month usually beginning at 11 AM ET (we will not have sessions during the summer months of June, July and August).
We will be presenting and chatting about various cargo recovery topics with special guests from the industry. All cargo and insurance professionals are welcome!
Cargo Convos sessions can be joined using the below Zoom details:
Join Zoom Meeting
Meeting ID: 830 9212 4373
Passcode: 721536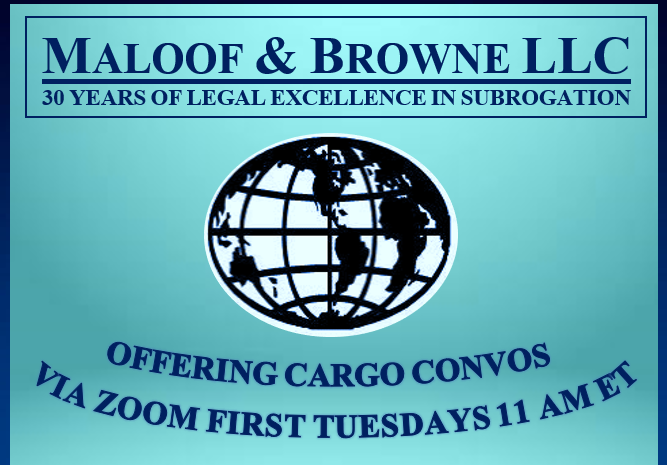 For updates on session topics, please visit our LinkedIn page (https://www.linkedin.com/company/maloof-&-browne/about/) or contact us at litsupport@maloofandbrowne.com or (914) 921-1200.
Below are upcoming and/or past seminar topics:
Date & Time
Topic & Presenter
Tuesday,
March 7, 2023
11 AM ET
"Fire, Fire Everywhere: How Do You Investigate Truck Fires?"

Presented by Doug Stahl, PE, CFEI, Stahl Engineering (Indiana)
Tuesday,
February 7, 2023
11 AM ET
"Fire, Fire Everywhere: How Do You Investigate An Exploding Battery Fire?"

Presented by Elisa Paone, PE, CFEI, Thornton Tomasetti (New York)
Tuesday,
January 4, 2023
11 AM ET
"Fire, Fire Everywhere: How Do You Investigate Shipowner Liability For a Fire?"

Presented by Capt. Sean Tortora, Long Island Maritime (New York)
Tuesday,
December 6, 2022
9:00 AM ET
Handling Cargo Claims in China: How is it Similar to and Different from the United States?

Presented by Christian Liu, Esq., Clyde & Co (China)
Tuesday,
November 1, 2022
9:00 AM ET
Handling Cargo Claims in Japan: How is it Similar to and Different from the United States?

Presented by Takehiko Tozuka, Esq., Okabe & Yamaguchi (Japan)
Tuesday,
October 4, 2022
11:00 AM ET
Handling Cargo Claims in the United Kingdom: How is it Similar to and Different from the United States?

Presented by Jai Sharma, Esq., Clyde & Co (United Kingdom)
Tuesday,
September 6, 2022
11 AM ET
"After The M/V As Fortuna Decision: What Exposure Remains for NVOCCs?"

Presented by Kipp C. Leland, Esq., Maloof & Browne LLC (New York)
Tuesday,
August 2, 2022
11 AM ET
"Marine Cargo Underwriters Working with Marine Cargo Surveyors: When Does It Really Work Best?"

Presented by Tiina Ruhlandt, EIMC (New Jersey)
Tuesday,
July 5, 2022
11 AM ET
"Can You "Really" Recover in Subrogation for Apparently "Undamaged" Pharma, Electronics or Food Just Because It Was Handled Outside of Standard Practices?"

Presented by Kipp Leland, Esq., Maloof & Browne LLC (New York)
Tuesday,
June 7, 2022
11 AM ET
"Can You "Really" Recover in Subrogation for Apparently "Undamaged" Pharma, Electronics or Food Just Because It Was Handled Outside of Standard Practices?"

Presented by Kipp Leland, Esq., Maloof & Browne LLC (New York)
Tuesday,
May 3, 2022
11 AM ET
"Warehouse Refrigeration Losses: Sometimes the "Oddest" People Have to Pay?"

Presented by Robert Falvey. Esq., Falvey Cargo (Rhode Island)
Tuesday,
April 5, 2022
11 AM ET
"Reversing Insurance Policy Waivers of Subrogation Under U.K. and U.S. Law: Yes, Recoveries Are Still Possible!"

Presented by Ian Woods, Esq., Clyde & Co. (London)
Tuesday,
March 1, 2022
11 AM ET
"Large Product Liability/Property Subrogation: Steps In The First Month Of The Claim That Can Win (Or Lose) The Case"

Presented by Michael Errera, Esq., Foran Glennon (Chicago)
Tuesday,
February 1, 2022
11 AM ET
"Heavy Weather Mass Container Losses: How Practical Is It To Recover from Shipowners?"

Presented by Kipp Leland, Esq., Maloof & Browne LLC (New York)
Tuesday,
January 4, 2022
11 AM ET
"The Role of Truck Accident Reconstructionists in Recoveries: Can You Exceed Limits of Liability?"

Presented by David Maloof, Maloof & Browne LLC (New York)
Tuesday,
December 7, 2021
11 AM ET
"Choosing Between Attorneys & Recovery Agents: Experience & Analytics to Consider"

Presented by Josh Kirsch, Gibson Robb & Lindh LLC (California)
Tuesday,
November 2, 2021
11 AM ET
"What Marine Claims Executives Should Insist Upon During The First 60 Days After a Claim to Maximize Recoveries Later?"

Presented by Joanne Gillespie, JBG Solutions (Florida)